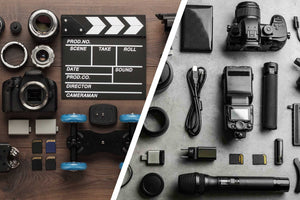 Production Products We Recommend
The Best Gear For The Best Results
We get to use alot of products both in the shop and while working on new episodes for the youtube channel. Bellow are some of the Production Products we use and recommend to our viewers.  **Affiliate Links Below**
Microphones - LAVS
You can't beat the microphone setup from RODE mics. This dual pack is two lav mics and one receiver.  This works great for Iphones, and professional cameras.  WE recommend to make charging easier the three to one charging cable. Even better we utilize the carrying case with charging capabilities.  You can even order a LAV wire kit to have more concealed microphone option for the RODE mic. 
Cameras - Video Capture
When we produce a show we are utilizing many forms of capture devices. We Shoot video on Iphones, HDSLR cameras like the Sony A7C, the GoPro system and even Drones and Black Magic Design 6kPro.
The Black Magic Design camera is Perfect for cinematic color graded shots and edits. The A7c is compact and easy to use, good for photos and video alike. The go pro is the action camera you can tape to a fender or stick to a windshield to get dynamic shots. The drone is perfect to add dynamic arial shots to any test drive.  
No matter what camera you decide to shoot with, you will need a dependable tripod to mount the camera to. We love light weight and compact tripods that make it really easy to travel with and adapt to many mounting solutions. This small rig 68" tripod is incredible and versatile. 
Podcast Set Up
When it comes to shooting and recording a professional podcast, There are only a few things you really need. First you need a camera to capture the video of the podcast.  Our previously mentioned A7C is a great cost effective way to get into the game with Pro quality video. But if you are on a budget you can take a look at the Canon Vixia Camcorders.
You will need to have some way to switch between camera angles if you are running multiple cameras. That will be best done by utilizing a Switcher, We recommend the ATEM Mini. This will allow you to run HDMI from the camera to the switcher and produce the show with all the angles. Utilizing the high speed HDMI cables is key here. 
If you are only concerned Audio and don't need video you can utilize a RODE Caster. This will capture XLR audio cables from mic of your choice to the caster with pre-qued audio drops and effects. The standard microphone for professional podcasts are the SHURE SM7B microphone. Crystal clear audio and dynamic function. 
If you are going to be editing the video in post and sync the audio later, A quick and easy way to record up to 4 microphones at the same time is a podcast ZOOM recorder.
STABILIZERS 
If you are filming handheld, the best way to get stable footage that is smooth and easy to edit, you are going to need an electronic stabilizer. For larger cameras we highly recommend the Ronin series stabilizers from DJI. Easy to use, easy to balance and cost effective.  If you want a camera and stabilizer all in one you can look at the OSMO Pocket Gimbal Camera. 
---